Have a pond, irrigation system or other water system that's leaking or unstable? Pondseal sodium bentonite clay is a quick, easy and environmentally-friendly solution to mitigating water loss. As a reputable Pondseal sodium bentonite clay supplier, H & H Clay, Inc. will help you get the quality product you need, in the quantity you require.Because Pondseal sodium bentonite clay is useful for any and all water systems, we're proud to serve a broad range of clients, including construction companies, agricultural customers, excavation firms and more. Our product is commonly used for ponds, farming irrigation systems, and the construction of water retaining/containment structures such as culverts, ditches, canals and more.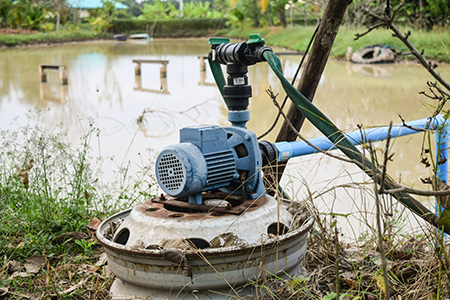 The Benefits of Sodium Bentonite Clay
When applied, sodium bentonite clay swells to 10-12 times its original size, creating a highly-effective, low permeability seal. It's best applied over porous soil or blended with soil and spread across the bottom of a water system.
Sodium bentonite clay offers a number of advantages for sealing water seepage. It's also completely safe for the environment, making it broadly applicable regardless of the ecological factors at play. When mixed proportionately and applied correctly, it's proven to stop leaks and seepage.
It's 100% eco-friendly and will not alter the composition of pond water or soil;
Has a natural structure that does not require other chemicals to set;
Can be applied to full effect in ponds and irrigation systems of all sizes;
No extensive labor required—can be applied with simple tools and equipment;
Erosion-resistant with great longevity when applied properly.
---
Your Pondseal Sodium Bentonite Clay Source
Looking for a supplier in Fruita, CO offering a proven, quality product at affordable rates? Contact H & H Clay, Inc. today to inquire about our products or rates. We'll work with you to ensure you're getting the sodium bentonite clay products and safety guidelines you need for your upcoming project or ongoing line of work.